How to Choose a Vacation Destination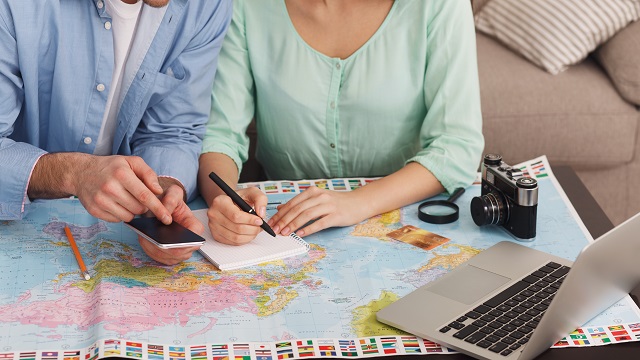 How to Choose a Vacation Destination
Planning a vacation can be invigorating, exciting, and a little bit overwhelming, too. When you're in the midst of planning, one of the most important decisions to make is choosing where to go on vacation. Between lodging, activities, culinary experiences, nature explorations, and beyond—there's a lot of things to consider as you choose your vacation destination.
That's why we've put together a quick guide to help you organize your thoughts and your travel plans! From public transportation to trip duration, here are some things to remember as you embark on planning your upcoming trip.
Pick Your Travel Buddies
Before you dive into vacation planning and destination choice, consider your travel buddies. A romantic escape to an adults-only spa in Hawaii may sound like the perfect spot—but can prove to be difficult (or impossible) with young kids in tow. Adventures zip lining and white water river rafting in the Pacific Northwest may be hard with older parents, but ideal for group trips with friends. Before choosing your destination, choose your travel buddies. This will help you fine-tune which sort of vacation to pursue.
As you pick your travel companions, remember that all vacations are different, but each one serves a purpose. Some are more mellow and relaxing, while others may be more intense and activity-filled. Once you have your group roster set and know their ages, interests, and personalities, you can fine-tune the rest of your trip from there.
Think About the Trip Duration
If you need to maximize having only a couple days off, you may want to plan a quick road trip close to home. A journey just a few hours away can instantly transport you to a vacation mindset, and as a bonus, you can pack up the car and forego the flight. If you have more time to get away, you may want to plan a trip to a more exotic locale where you have more time to experience the local area and make the jet lag worth the trip!
Set a Budget
Certain destinations are going to be more expensive than others. The good news is, once you come up with your budget, you can split the costs for lodging, meals, and activities with family or friends who are traveling with you. If you have your heart set on a destination that's a bit pricier and seems out of budget, try traveling during the offseason. During peak times, everything is going to be more expensive—but during slower months, you're more likely to find specials and deals on lodging. Food tends to be a big expense on vacations, especially when you're traveling with the whole family, so look for a place with a kitchen to offset some of your food costs.
Domestic vs. International Travel
The idea of jetting off to a destination abroad can be wildly intriguing. Filled with history, charm, and culture, the world is packed with plenty of beautiful locations. When you're planning a vacation, you want to weigh the options of domestic vs. international travel wisely. Language barriers can be tough, but if you're up for it, they can also provide rich, educational opportunities for growth. Traveling with a family abroad might be stressful, but it also gives kids the opportunities to see and do new things.
As you choose between domestic vs. international travel, don't forget how much there is to see and do in the United States alone. From the West Coast to the East Coast to all the gems in between, each state offers its own set of unique experiences.
Research Public Transportation
Some people love the idea of a whimsical, long train journey along the coast or through the trees. Others would prefer to get around fast and efficiently with taxis or rideshares. The city bus may be a no-go for some, while others view it as adventurous. Different destinations will have different modes of public transportation. When you're figuring out how to plan a vacation destination, don't forget to research the public transportation options beforehand and find a location that suits your ideal modes of travel.
It's also helpful before you've secured your lodging, to see how far your accommodations are from bus stops and train stations. If you have a rental car, this may not matter as much. Without a rental car, in some cases, you may feel stranded (which isn't so bad if you're basking on the beach or relaxing in the hotel hot tub).
Destination Activities
Every destination is its own journey. Some are filled with snowy trails for skiing, others rest along the sand, ideal for snorkeling and basking in the sun. Fine-tuning how to plan a vacation itinerary and destination choice has a lot to do with your interests. Remember, vacation planning is a personal experience. Some of us would rather read a book by the pool, while others relish in a day spent hiking. Knowing which destination activities you're on the hunt for will help you to narrow down the location. And don't forget, when you're on vacation trying something new can be half the fun.
Whether you're planning a vacation in summer or fall, in the country or out of the country, solo or with a giant group—we hope these tips and tricks give you some ideas on how to choose a vacation destination. Of course, if you're daydreaming of places like Cabo, Colorado, California (and more), We have you covered. Let our luxury resorts at remarkable destinations around the world, be the starting point for your next grand adventure.
Owners, visit The Lounge for more information or to book a reservation.