How to Plan A Vacation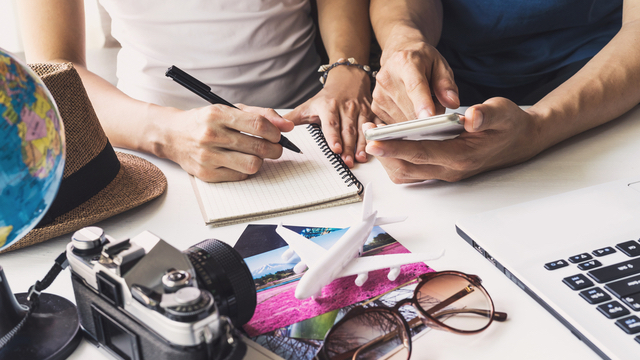 Oh, the sun-kissed palms, the snow-filled mountains, the dreamy desert sunrises. All of these parts of a vacation are so close, yet—when planning is involved—they can seem so far away.
As it turns out, planning the perfect vacation can be hard work. And if you're trying to fine-tune all the details and map out the itinerary, it's normal to feel overwhelmed. Whether you're doing a solo trip abroad or a road trip in the states with your family, figuring out how to plan a vacation can sometimes seem like a part-time job.
Thankfully, we've compiled a handful of tips and tricks that can alleviate any trip-planning anxieties and help you to enjoy the planning process. From picking a location to planning a budget to nailing down the packing list, we have you covered. Bring your vacation notebook and your imagination, and let's dive in.
Pick a Location
One of the most important parts of vacation planning is choosing your location. There are a handful of things to consider as you do so. Picking your location is a matter of personal preference, though it doesn't hurt to ask family or friends about past trips. Someone may have insight into an all-inclusive package, an incredible flight deal, or a boutique hotel in the city with a great breakfast. As you choose your location, peek around at accommodations, transportation options, and activities that interest you. Some of us may prefer ziplining over the rainforest; for others, wine tasting is the ultimate bliss. Once you narrow down your location, the other details can fall into place.
Choose the Season
Choosing the right season is equally as important as choosing your destination. Seasonal weather will be different depending on where you go. Winter in Baja California, for example, is still warm enough to spend a day hiking and walking on the beach. Winter in Colorado, on the other hand, brings with it the beauty of snow and opportunities for skiing. Seasonally, certain locations can be less expensive during "low season" vs. "high season." Autumn is breathtaking and, after the summer crowds and families have diminished, there can be a quiet peacefulness to your vacation. Choosing your season is just as much a matter of personal taste as picking your location, but it's definitely something to consider before you dive into full-blown planning mode.
Plan Your Budget
Budget is one of the most critical parts of planning a vacation. It can make the difference between camping on a beach in a tent or opting for a luxury coastal resort instead. When you're figuring out how to plan a vacation, don't let the idea of a budget stress you out. The good news is, once you come up with your budget, you can seamlessly move through booking things like lodging, tickets, and activities. Some people wait until a big payday arrives, then jet-set off with their families or significant other for a vacation celebration. Others work to put a bit of money aside every month, and when the year comes to an end, they plan accordingly.
Here are some budget tips:
Share your vacation with family or friends, so that you can split accommodations.

Save money by booking lodging with an in-unit kitchen where you can grocery shop and cook.

Travel during the off-season.

Set a "souvenir budget" so that you don't run the risk of overdoing it at the gift shop.

Plan for the unique outings with a separate cost that are important to you and can make the trip worthwhile—like a last-night-of-vacation-luau or a meal at an iconic restaurant.
Arrange Lodging
Lodging is always a highlight when planning a vacation. First, ask yourself what kind of accommodations you're interested in and what amenities are important to you and your travel buddies. If you have kids, you may want a place with a waterslide or a kids' club. If you're traveling for your honeymoon, you may be more interested in a spa that offers couples' massages. Rest assured, whatever type of lodging you're after, you'll be able to find it. Today, places all over the world range from a quaint bed and breakfast or sprawling oceanfront resort to high rises in the heart of the city. You can contact the lodging locations beforehand to see if they're running any specials as well. They may have a deal that offers a discount during January or book two nights, get one free in the summertime. Some locations may offer free breakfast or a hosted evening cocktail hour. Once you dive into doing some research, you can compare your choices, narrow down your options, and feel empowered to make the best choice.
Book Tickets
Booking tickets beforehand is, unfortunately, sometimes forgotten during the trip planning process. As a result, people scramble to have the right amount of change for the bus or to figure out which exact train they need. Plane tickets (when booked ahead of time) can be much cheaper and sometimes even allow you to change flights, should you need to, without an additional fee. Booking your tickets ahead of time can save you an unnecessary headache. What this all means is that when it's time to board your plane, train, or bus—you can sit back with a good book and a drink and bask in a stress-free journey.
Packing List
Making a packing list well before you need to leave will help you to avoid bringing too much or forgetting an essential or two. If you underpack, you put yourself at risk for running out of clean socks. If you overpack, your bag might feel cramped and you may go over the airline weight limit (if you've ever been the passenger trying to rearrange and redistribute clothing and suitcase weight on the airport floor, we feel your pain). The key is to find the perfect balance. Smarter Travel has a downloadable packing list to get you started. From here, you can fine-tune based on where you're traveling to and how long you'll be gone.
Activities & Itinerary
When crafting your trip, one of the most crucial things is knowing how to plan a vacation itinerary. Once you've picked your location, nailed down your lodging, and set your budget, let the fun begin! From surfing and bike riding to culinary tours—the world is your oyster when it comes to activities and an itinerary. Of course, if all you want to do is lay by the beach with a good book, that's completely understandable, too. If you do plan to stay busy, or even take part in the occasional adventure activity, mapping things out beforehand will help you stay organized. If you come to our resorts, you can also take part in our award-winning INSPIRED For You™ activities program. To make vacation planning a bit easier, we offer experiences customized to you and the unique landscapes, seasons, and cultures of each resort.
Now that you know precisely how to plan a vacation, we hope you're feeling inspired to begin your trip-planning journey.
Owners, visit The Lounge for more information or to book a reservation.