8 Tips for Packing for Your Summer Vacation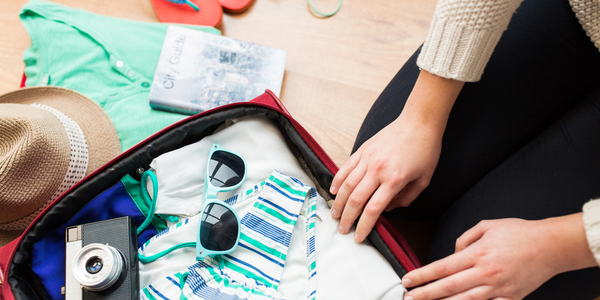 8 Tips for Packing for Your Summer Vacation
Summertime and warm weather seem to be synonymous with vacation. Whether you're mountain biking with us at the Ranahan in Breckenridge or swimming the Sea of Cortez in Cabo San Lucas, summer is a time for exploration and adventure. If you're preparing for warm weather when you travel and need some summer packing tips, our team is here for you. From "bikini bags" to packing cubes, we've put together a summer vacation packing list to help ease you into stress-free travel prep.
#1 Choose Your Color Scheme
When you're crafting your summer packing list, it's easy to gravitate toward those wildly vibrant shorts or that patterned blouse you love. However, if you're trying to save space, it's helpful to choose a color scheme first to require less unique outfits. Perhaps this year, your summer vacation calls for all things coral and orange. Or, you may be inclined to keep it neutral with tans, browns, and whites. If you stick to a color scheme, you can easily mix and match your clothing. We also love the idea of keeping the clothes simple and showing off your style with fun accessories instead, like creative earrings or colored sunglasses.
#2 Avoid Overpacking
During the warmer months, when clothes aren't as heavy as they are during the winter season, it's easy to overpack. But one of our most important summer packing tips is to avoid cramming and cluttering. Going into a vacation feeling overwhelmed by your outfit options isn't the best idea (even if there's the space to do so). Instead, make a list of what you'll need so far as bathing suits, shirts, shorts, sundresses, shoes, socks, underwear, undershirts, coverups, and pajamas. If your lodging location offers an in-unit washer and dryer, like many of our resort properties do, even better! This way, you can bring just enough—but not too much.
#3 Bring a Multi-Purpose Bag
One of our top summer packing tips is to bring a multi-purpose bag. Whether you're tossing in sandwiches for a picnic at One Village Place in North Lake Tahoe or bringing along your beach read and sunscreen at Sirena Del Mar, a versatile bag keeps things convenient. The good thing about an extra tote is that it can easily be folded and put into your luggage. Then, on your way home, it's the perfect place to store those souvenirs or trinkets you've gathered along the way. Make sure to bring along some plastic bags, too, to keep sunscreen and liquids from leaking.
#4 Wear Your Layers
Even in the warmest summer months, temperatures can dip during the evening. A vacation to our resort in the Palm Springs area, for example, may still call for a light sweater when you're unwinding on your private patio in the evening. The good thing about layers is that you can wear them onto the plane. Planes can get chilly, and keeping your sweater or jacket with you will not only save space in your suitcase, but it will keep you comfortable, too.
#5 Comfortable (Yet Stylish) Shoes
Although it can be tough for many style-oriented travelers to hear, it's best to keep those shoes to a minimum when creating your summer packing list. Between wedges, sneakers, loafers, flats, heels, and flip flops, the options for men and women's shoes are endless. If you can, stick to one pair of flats or flips flops, one pair of nice shoes, and one pair of active shoes. The key is to bring the two lightest shoes in your suitcase and wear the third pair on the plane. If your flats, flips flops, or activewear shoes can double as your nice shoes, you'll get bonus points as an expert packer!
#6 Bathing Suits and Cover-Ups
With a little bit of pre-planning, both men and women's bathing suits and cover-ups can do double duty. For guys, a good pair of board shorts can double as the shorts you wear to lunch. You can hike in them, swim in them, and even eat your afternoon cheeseburger in them. For the gals, a stylish one-piece with some high-waisted shorts can easily double as a cute outfit during the day. Not only does this save space in the suitcase, but it keeps your tops fresh and clean for later on in the evening. If you're going the route of cover-ups, look for something you're comfortable in at both the beach and the restaurants. Sundresses are the ideal thing to pack, as they can easily be tossed on over a bathing suit, but they work great for a night out, too.
#7 Comfortable and Cute T-Shirts
When the weather is warm, we're all about t-shirts that perform multiple functions. Bring shirts you can wear on a hike, but that you can also wear for a night out on the town. You can layer them up with denim jackets or a light sweater in the evening and the next day, wear that same t-shirt on a sweaty hike or workout. T-shirts are also easy to roll and easy to pack, which is another one of our quick tips to save space without worrying about wrinkles. Instead of folding your clothes, roll them up, and place them in packing cubes for tidiness and convenience.
#8 Reusable Bags
If you've ever taken a dip in the ocean the morning before your flight back home, you know this can lead to a packing predicament. If your bathing suit is wet, chances are, it's going to stink up your suitcase and get everything else wet, too. This trip, add reusable bags to your summer packing list. "Bikini bags" as they're sometimes called, can be used for wet bathing suits but also for things like toiletries, sunscreen, and tanning oil. This one from the Aloha collection can even be used as a clutch for easy transition from the beach to the bar.
Whether you have your heart set on swimming, hiking, biking, or simply relaxing, we hope these summer vacation packing tips help you with all your warm-weather preparations. At our resorts, we like to think that planning and packing is part of the fun. Turn on some summer-inspired music, pour yourself a cold drink, and settle into the vacation state of mind. You deserve it!
Owners, visit The Lounge for more information or to book a reservation.